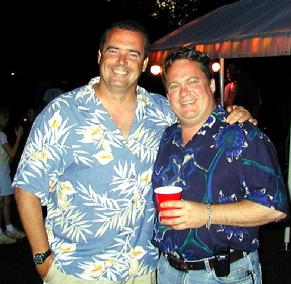 Brooks & Morse
World's Finest Hickory Cooked Barbeque
Eastern North Carolina Style
Specializing in Authentic Pig-Pickings
"It's primarily a southern experience, but one that transcends all borders."
Thank you for visiting our Web site. PigMasters has been providing a quality catering service in the North Carolina area for over 20 years. We specialize in eastern North Carolina style pig-pickings and everything that goes with them. So, for a relaxed and unforgettable event, count on PigMasters for all your pig-pickin' needs.
PigMasters offers a unique and historical food service at an unequivocal value. Employing traditional cooking methods that made North Carolina barbecue legendary, we provide an authentic pig-picking, complete with its long-established side-item menu, for parties, weddings, corporate functions, charities and other events. We use only the highest quality and freshest products available, never sacrificing flavor for convenience or quality for profit. And, our pigs are cooked with 100 percent hickory wood because cooking over live hickory coals imparts a taste that cannot be duplicated by any other cooking method. We meticulously adhere to eastern North Carolina's time honored principles for slow-pit-roasting whole-pig barbecue, baby-back ribs, and wings, to preserve the remarkable and memorable tastes of North Carolina's unpretentious 350-year barbecue history of delicious celebratory feasts.
Our pigs are purchased from a farm in eastern North Carolina. Your pig will be selected and butchered the day before we pick it up. We ice it down and take it to the cooker. You would have to be on the farm, and quick at it, to get a fresher pig.
We bring our 'Pig Rig' to your location and prepare everything onsite (with the exception of the coleslaw).
The 'Pig Rig' is equipped with a stereo, in the event you do not have music, and satellite television for that game you just cannot miss. It also has everything needed for a pig-picking. The only items you need to supply are the location and chairs and tables for your guests.
We started organizing and putting on pig pickings when it became apparent to us that this traditional part of North Carolina's history and social fabric was disappearing. As barbecue restaurants replaced pig-pickin's and barbecue stands, wood burning pits gave way to the economic convenience of gas, electric, and hybrid cooking devices. Gone was the delightful, deep smoky flavor in the meat; the taste that only comes from a wood cooked pig. Gone too was the unique social event that was, and is, the hallmark of a real pig-picking.
At Pigmasters, we feel that losing this part of our culture was as regrettable as the loss of a friend. For us it has became something of a mission to preserve the atmosphere of fellowship and the marvelous tasting food that folks experienced at real pig-pickings.


We hope you will give it a try, and if you do, we think you will agree with us.

Brooks, Morse, and the PigMasters team